What is SS code?
Unlike conventional bar code or QR code, SS code is a new type of code that can be directly recognized by people in any environment. It can be configured based on human-recognizable characters and numbers so that it can be recognized by a person or by a machine (smartphone camera sensor).
The benefits of SS code are
First, we can search for products or advertisements that users are interested in using SS code recognition solution of smart phone or directly input code (number).
Second, it does not require a separate hardware reader such as barcode or RFID. If the recognition is difficult due to automatic recognition using the camera sensor of the smartphone, the code is directly input to the smartphone, You can.
Third, unlike a large-capacity QR code that contains relevant URL information to be linked, when a service that automatically recognizes the corresponding URL through a simple numeric combination SS code so that a person can directly input the URL is provided, Mobile search services are available. Unlike WINC, which consists of only a few digits, it can be recognized automatically by the camera sensor, so you can increase the number of seats and accommodate many URL addresses.
Fourth, by switching the machine and recognizing numbers and letters instead of simple images or symbols, you can display numbers and letters in a larger area instead of symbols that can be recognized only by the machine.
In this way, if a new conceptual code that can be recognized by human beings and machines can be created, various services through smart phones will be possible.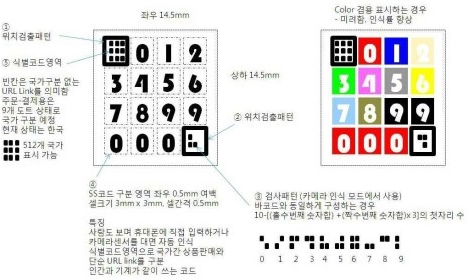 Our mobile transportation management solution is a centered PC application that accepts, manages and delivers orders from customer applications that customers order from their smartphones or PCs, and a smartphone Total transportation management solution that includes applications. In addition, it is a packaged solution for each module that can be easily applied to a similar process.
Advantages of this solution
Total solution composition
Reducing the Construction Period
Reducing deployment costs
Efficient maintenance system
Business Process Summary Diagram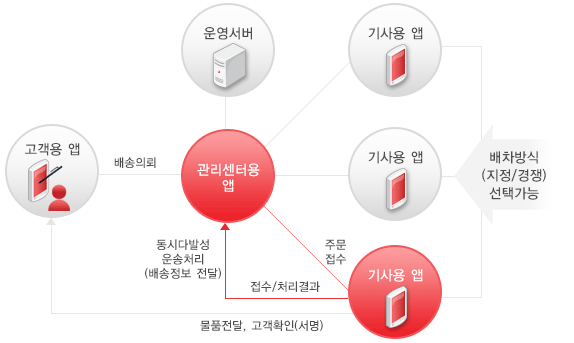 Development environment
Program Language : Java / Android 3.2 (Honeycomb)
Terminal specification (smart phone)
CPU : 1GHz Dual Core
LCD : WVGA (1280x800)
Memory : RAM 1GB, ROM 16GB
Network : 802.11 a/b/g/n (2.4GHz & 5GHz)
Program Major Features
Home boundary
For Outing
Emergency Bell
Screen Shots

Development environment
Program Language : Java / Android 2.1
Server Environment : Tomcat / MySQL
Program Major Features
subscription / termination guide
Guide on service and charges
SMS phrase setting function
Development period
Development period: about 3 months
Screen Shots

Development environment
Program Language : C++ / Windows Mobile 6.5
Server Environment : Windows Server 2003 / MySQL
Program Major Features
Insulin pump control
Insulin pump recognition
Insulin pump status inquiry
PC-Bluetooth compatible function
Pump data transfer function
Development period
Development period: about 2.5 – 3 months
Screen Shots

Development environment
Program Language : C# / Chart FX
PC environment
OS: Microsoft Windows XP or later
DBMS : MS-SQL
Memory: RAM 512MB, HDD 20MB or more
Network: Bluetooth v1.2 or higher
Program Major Features
Insulin PUMP and Bluetooth connectivity
Automatically download historical data of Insulin PUMP
Insulin PUMP data in multiple charts
Displaying blood glucose measurement history and blood glucose measurement value by period
Insulin infusion, carbohydrate measurement by period
Patient registration and registered patient list display
Default bolus value, basal profile information setting, etc.
Development period
Development period: about 3 months
Screen Shots